Bears 13 wins, Bulls 2 games out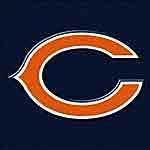 When Mr. James Nordberg Jr. told me he had created a sports blog called, "Fleece the Pig, Flog the Pony," I was definitely interested in reading it. So, I proceeded to do so. Little did I know, it was a
CHICAGO
sports blog, with
CHICAGO
sport fans, that are
CHICAGO
CUB
haters, and are generally
Chicago White Sox
fans. I do stress the generally, because I wouldn't want to put the dis on my only Cub buddy on this blog, (ChicagoCubbin). I am a diehard Chicago sports fan, (except for the
White Sox
of course). So naturally, I took it upon myself to ask Mr. Nordberg if I can be a part of this blog.
Chicago is a wonderful sports city to live in. We have the Cubs, the Bulls, the Bears, the Blackhawks, the Fire, and the Sox. Personally, I'd rather watch 2 flies getting it on, then enjoy a Sox win, but that's beside the point. Are we spoiled? I believe so, but being spoiled as opposed to not having a competitive town, is a great thing. Not to mention, the food is outstanding compared to other major cities in the U.S.! That's always a PLUS!!!
But baseball fans, listen up! We need to focus on the sports we have in Chicago right now. The Cubs and the Sox are irrelevant to the playoff Bears for one. We have the Bears going to the playoffs again for the second straight year. Is that not a good reason to be excited? Even though their defense carried them most of the way, the Bears found ways to win 13 games this year. Yes it looks like Grossman is choking on his own vomit at times, and yes Tank Johnson should keep his ghetto fabulous wanna-be crap in the ghetto where it belongs, but look, the Bears are 13-3!!! 13 wins!!! Division champs two years in a row, best record in the NFC, 2nd best record in the whole NFL? Is that not something to cheer about, even if they weren't accomplishing the next level of stardom? C'mon! Let's cheer for them now, because
we may not have another chance again. Let's hope they can accomplish some playoff victories, even though we Chicago fans should know that the Bears sucked lately! Hey, at least they're there!
Bears playoffs are great, but let's not forget about the Bulls. They are 20-15, only 2 games out of first place in the Central, and only 2 games out of the whole Eastern conference. Not bad huh? They could be like the 76ers and have only 9 wins and are in dead last in the Eastern conference. But, the Bulls are actually a good team. How about Deng? FG% .540, averaging 18 ppg. Not too
shabby, eh?. The kid keeps getting better and better. What do you do when you need a player to step it up? Just Deng it!
Gordon has had some good games too with 20.8 ppg. You've got to like that! He is a bench player folks! That's like getting a bonus on your check, getting free drinks at your local bar, and even getting your burrito for nothing on a good drinking night. That's awesome. Does it sound like Jordan? No way! But let's not treat him like a piece of dog poop, and compare him to the best basketball player to ever live. He can definitely lead the Bulls in scoring on any given game though. That's pretty darn good. Once again, not too shabby, eh?
Nocioni ain't looking too bad either. He has a .400 3p%, 15.6 ppg., and a fg% of .482. That's exciting, yeah? Is there a reason to cheer? Yes! Is there a reason to be mad? Not really.
Just remember, the Bears will step it up in the playoffs on Sunday against Seattle. Trust me, they'll have to. The Bulls are only 2 games out of the lead in the Eastern conference, but they have a pretty good chance to do something this year. They did smoke Detroit, (the #1 team in the east), on Saturday. Not too shabby, eh? Yeah, I know the answer.